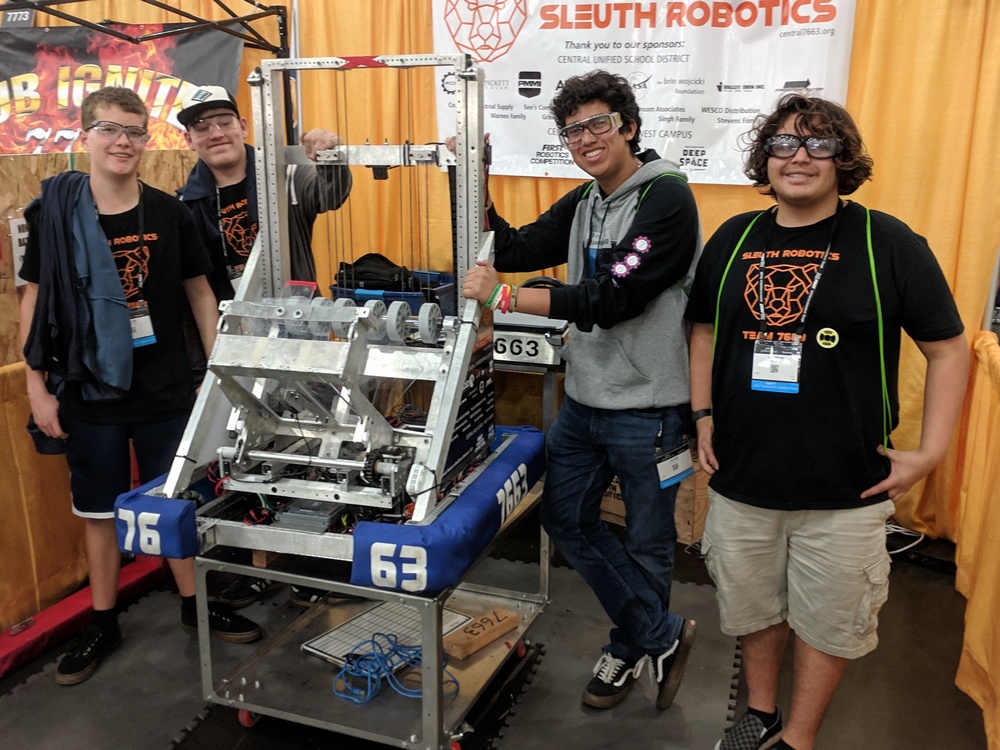 Sleuth Robotics just got back from the FIRST World Championships in Houston (Champs). The trip was a great adventure...and a learning experience for our rookie team. Our robot was very reliable and performed well, but unfortunately we weren't selected for an alliance at the end of qualifications. We were disappointed, but not surprised because it's pretty rare for rookies to get selected.
Here's a brief rundown on how Champs works out...
Approximately 400 teams attend Champs, which are divided into six divisions...so there are 66-68 teams per division

Each team competes 10 times in qualifications as a member of a randomly assigned three team alliance. Qualification matches take place over Thursday & Friday

On Saturday morning (after qualifications), the 8 top ranked teams are named alliance captains

Each alliance captain picks their second alliance partner in descending order. Alliances captains can pick from any team in their division. During the first round of picks, an alliance can also select a lower ranked alliance team (which is fairly common).

Once the second partners are picked, the lowest ranked alliance picks their third partner, then the next highest alliance picks and so on.

At Champs, each alliance picks a 4th partner, which will serve as an alternate in case one of the three main robots breaks down.

The eight alliances then play each other in a bracket format until a winner is determined

The winners of the six divisions then play each other in a round robin format.

The top two ranked teams then play each other in the finals which took place Saturday night during the closing ceremonies at Minute Maid Field (where the Astros play)
In early January, the new game format is released and teams must decide what their robot will do. The top teams focus on being able to do everything, whereas teams with fewer members and resources tend to pick a few things to specialize in. Overall, our robot "Savage" was a solid middle of the road robot. It specialized in playing defense and scoring cargo (balls) and it could climb to level 2 at the end of the match. We performed all functions very well, but two things kept us from being selected...
Our alliances struggled during qualifications, which led to a 3-7 record and a rank of 58 out of 68 teams

Our robot could not climb to level 3 or handle hatches (discs), which limited our attractiveness to other alliances as their #3 pick
The highlight of our trip was watching our mentor team 1323 MadTown Robotics from Madera win their first world championship. We've worked side by side with Madera throughout the season and it was great to see them get the success that their team and robot deserved. Success didn't come easily at Champs though as their robot experienced some mechanical issues which they worked hard to overcome. MadTown was a part of the second placed alliance after the round robin, which meant they were going to compete in the finals at Minute Maid Field. They invited us to sit with them which meant we had great seats to watch the closing ceremonies and finals. The finals were a nail biter, but in the end, their alliance prevailed and Madera won their first world championship! It was great to celebrate with them and it gave our team the taste of success...and something to strive for in the future.